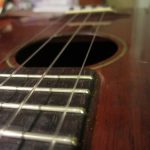 We're a group of uke players who meet each Tuesday at 7:00pm at The Hancock Recreation Center – 811 E. 41st Street, Austin, TX. (Hancock Rec Center Web). Ask at the front desk and they'll point the way.
We open our meetings by playing a couple of songs that we haven't played for a while. Then we play a few songs from our current, and ever – changing quarterly songbook.  Our current song sheet is always available here – and it changes as folks bring in songs they like and we try new songs – we're open to anything! At the end of each quarter we pull a dozen or so songs from our current songbook, print song books,  and have an open uke jam at a local watering hole – we call it a Uke-Along.  We take our loaner ukes and usually get some bystanders involved  – it's a lot of fun.
From 6:30pm to 7:00pm each Tuesday (right before our TUG meeting)  we have a little Flash Class. This is a short group practice where we work on strums – finger-picking – chord patterns – anything folks want to work on. On the second Tuesday of each month we do a Ukulele Camp for people who want give the uke a try. We have loaner  ukuleles for you to use, and you'll get the basics – how to hold the uke, how to learn chords, how to strum, and by the end of the the 30 minutes we'll be playing a song  – or two.  We also encourage you to stay around for the full TUG meeting. If you've ever thought you'd like to try the uke – the TUG Ukukele Camp may be the place for you.
If you have any questions drop us an email – info@tuesdayukes.org. We're very informal, and this is a friendly group – so come out and play ukes with us.